A Kiwi artist and taco truck owner has two flag designs featured in the latest list of finalists released by the Flag Consideration Project.
Otis Frizzell, who co-owns The Lucky Taco food truck with wife Sarah, said it's "pretty awesome" having two of his designs in the list.
"It's awesome but I don't really know what it means," said Mr Frizzell.
"I guess it's one step closer, you know. One step closer to a result, but really it's all a bit of an abstract concept to tell the truth."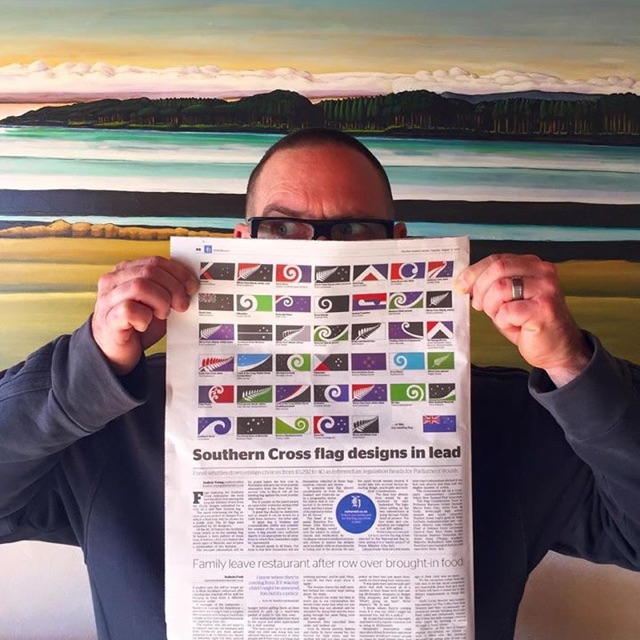 Otis Frizzell said he had the design for almost six years before the current flag debate. Photo: Supplied.
A final four for public vote will be chosen from the latest selection, and will be revealed later this year.
Mr Frizzell said he never considered he would be in the running with his designs, called 'Manawa' in two different colour schemes, and that he had the design for almost six years before the current flag debate.
"The debate has been coming and going since forever really," he said.
"Somebody was talking … saying that they like the Hundertwasser [green koru] design. I don't like the design, but people were talking about it, so instead of saying 'I don't like it', I just thought I would have a go at doing something [different]."
WHAT THE EXPERTS SAY
The final 40 flags have received mixed reviews from experts in design and communication.
Associate Head of AUT's School of Art and Design, Sue Gallagher, thinks that some of the flag designs are more appealing than others.
"I think the ones with the Silver Fern are probably too related to sports, so I think it's a weird connotation for a nation," she said.
"I think the red, black and white ones are the most dynamic. The visual colours have a bit of a symbolic meaning as well."
Dr. Gjoko Muratovski, the Senior Manager of the AUT School of Art and Design, said a national flag is just one of three key symbols that an independent country can proclaim their identity and sovereignty.
The other two, according to Dr Muratovski, are the national anthem and a national emblem, such as a coat of arms.
He personally favours the black-coloured design featuring a silver fern in the middle, "because it has the iconic visual appearance as the Canadian or the Swiss flags have."
Professor of Communication Studies and Pacific Journalism at AUT, David Robie, said he thinks the Union Jack element of the flag needs to go.
"It's an old colonial relic, and other countries like Canada did away with it years ago," said Dr Robie.
"I find this whole exercise a bit of a joke in the sense that if we are going to go for a new flag, why don't we consider the Tino Rangatiratanga flag as part of the mix?"
Dr Robie said none of the flags in the top 40 stood out to him. "None of these pretty designs convey to me what New Zealand is, and I'm sure there are a lot of other people who feel the same way".